Meet Our Newest Spanish Teacher.
A
fter three decades of teaching Spanish, Mrs. Purvis has found a new home at St. Luke's as the Upper School Spanish teacher. In honor of National Hispanic Heritage Month, she has introduced her students to the significance of Spanish holidays and the influence of Hispanic culture in the United States. Drawing from her personal experience, she shared stories of her Bolivian mother who immigrated to the United States and her time living in Cancun. Mrs. Purvis believes learning Spanish provides numerous benefits, including expanded horizons and opportunities for communication and connection. She also notes that Spanish-speaking countries are near, making it a practical language to learn.
To help her students learn effectively, Mrs. Purvis emphasizes the importance of "total immersion" and modern media rather than traditional textbooks and lectures. As a new member of the St. Luke's community, she appreciates the small class sizes and personalized attention that enables her to connect with each student. Mrs. Purvis encourages her students to practice speaking Spanish fearlessly, even if they make mistakes. She also highlights the importance of family in Hispanic culture, which is a core value that she holds dear. As she embarks on her first year at St. Luke's, Mrs. Purvis looks forward to helping the program grow and flourish.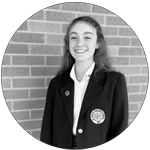 Ella is a sophomore honors student at St. Luke's. She is the reigning state champion in tennis and also plays on the varsity volleyball team. Ella is studying and interning this year in UX website design.