W
e believe the alumni of St. Luke's Episcopal School are our greatest ambassadors and representatives. In our few short years as a K-12 school our alumni have spread across the country and to several other countries as well. The school is grateful to you for the excellent examples you have become of young adults who think critically, lead confidently, and live honorably. We sincerely hope that the foundation created here at St. Luke's has and will continue to serve you well in all of your endeavors.

As vital members of our school family, we hope you will engage frequently with the opportunities provided to stay in touch. You have the chance to truly impact the current students with your support, both financially and in person.

In 2023, St. Luke's first Upper School class celebrated its 10th reunion. St. Luke's is 62 years old and remains a pillar in the Mobile educational landscape.
We Want to Hear From You
We want to hear about the important events and milestones in your life. Please email or use the form below to provide details of your graduations and degrees, places of employment and occupations, engagements, marriages, births of children, awards and honors, and any other significant events that we can share in our Alumni Newsletter and on our Alumni FaceBook page. Families love to celebrate each other, and you will always be family! Remember, Once a Wildcat, Always a Wildcat.
---
We look forward to seeing you at any or all of these events. Also, be sure and check the school athletic calendar for games, tournaments, and playoff dates and locations.
We love to have our alumni come back and talk to our students about their college experiences and careers. If you would like to schedule a time to talk to a class or during an assembly, please contact Suzy Banks. If you would like to volunteer to serve on the newly forming St. Luke's Alumni Board, please contact Diane McCleery or call 251-666-2991 ext 8140.
---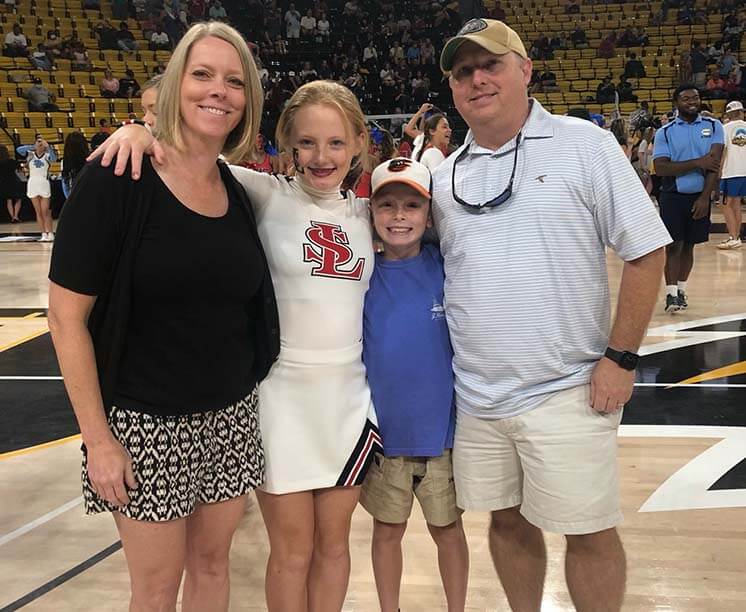 Alumni Spotlight
Since 1961, St. Luke's has graduated some pretty amazing alumni. Learn more about St. Luke's alumnus, Lee Banks, and his second generation of Wildcats!
Read More →