More Than a Music Teacher.
---
M
r. Joe Setzer is St. Luke's newest music teacher and choral director.

Learn more about Mr. Setzer as we celebrate National Arts in Education Week.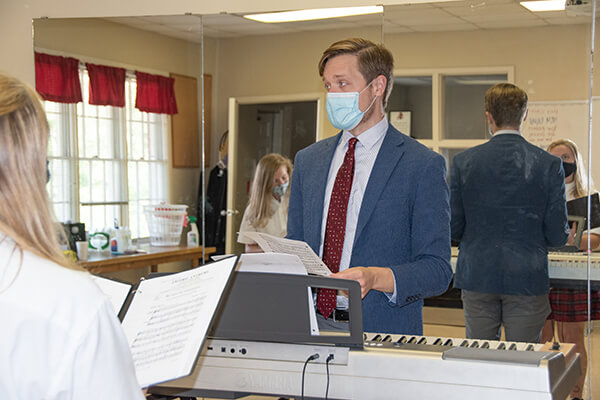 St. Luke's: Describe yourself.
Joe Setzer: Kind, easy going, level headed, disciplined, honest.
SL:&nbsp&nbsp Discuss your prior history with fine and performing arts?
JS:&nbsp&nbsp A large portion of my experience in the performing arts comes from singing in the church. I got my start singing in the 3rd-5th grade choir at Davidson Methodist Church in Davidson, North Carolina. I sang in the church in various capacities until I was in 7th grade. Midway through that year I made the terrible decision of quitting. For some reason, I thought that singing wasn't a cool thing for boys to do. Fortunately, music remained in my life with the school band where I played the saxophone. I also took regular piano lessons. In my junior year of high school, I had the opportunity to take organ lessons and I have never looked back. Since then I have been fully involved in church music and have had great experiences learning, singing, and playing some of the great pieces of music of the church. I have two degrees in Organ Performance from the University of South Carolina, I have studied the voice and all its quirks, and have sung in many different choirs. A substantial part of my music background in college came from participating in the music program at Trinity Episcopal Cathedral in Columbia, South Carolina. This experience exposed me to the wonderful choral traditions of the Episcopal church. I'm hopeful to spread the knowledge of these traditions as time goes on.
SL:&nbsp&nbsp What led you to want to become a teacher in the fine or performing arts?
JS:&nbsp&nbsp In the music world, especially in the church music world, there is really no way to avoid being a teacher. I'm teaching all the time - whether that's teaching the notes of the treble clef, explaining my favorite piece of music, or if it's teaching someone about a subject that is entirely unrelated to music, I'm always teaching something. Additionally, educating students is a huge responsibility that provides for a rich meaningful life. It's cliché to say, but students teach me as much as I teach them! Teaching music specifically, though, can really transform lives in many positive ways. It can provide order, a source of beauty, a sense of belonging, and a wonderful outlook on the complicated world that we live in.
SL:&nbsp&nbsp Why should the fine and performing arts play a key role in a student's education?
JS:&nbsp&nbsp The sacred act of creation is a collective part of the human experience. In other words, we are all involved in creating something. We create new business, complicated spreadsheets to help with large corporate finances, fun/exciting parties and events, new books, new scientific theories, research, or technologies, cool videos for youtube or tiktok, new roads, buildings, or bridges, new ways to solve the world's problems, etc - we all create. Performing arts provides a unique opportunity for students at an early age to be intimately involved in this sacred act of creation. A student's intimate involvement in these various creative opportunities provides a rich fuel source for their future creative endeavors. It also teaches the discipline that is required in order to create, all while providing a source of community and support that lasts a lifetime. Contrary to popular belief, it is artists that propel the world forward into new exciting directions. Just think of the most wealthy people in the world - they all created a product or service that has radically changed the world we live in. There is huge financial value in creation! Lastly, I will pose this question: Can you think of a world without art? That is a very sad, chaotic place. Art is a source of order, light, truth, and inspiration for our weary dark world.
SL:&nbsp&nbsp Do you collaborate with other departments within the school? If so, how?
JS:&nbsp&nbsp Someday I hope so. Music and the performing arts in general exercises many different skills, subjects and experiences. One can discuss the physics of sound, the anatomy of the voice, the construction of a cohesive argument, poetry and its many interpretations, the movement of time and space, world history and the understanding of the world during a specific time period, and complicated religious and theological questions all in the context of learning a piece of music. Personally, it is this connection and combination of many different subjects that makes learning music, especially difficult, complex music a fun and enjoyable experience for me.
SL:&nbsp&nbsp How do you connect fine and performing arts to other subjects?
JS:&nbsp&nbsp One of the 7 pillars of a classical, libral arts education is music. All of these subjects - grammar, rhetoric, logic, geometry, arithmetic, music, and astronomy share so much in common and they push us to think in wonderfully creative ways. Music connects the more mathematical libral arts (the quadrivium) with the more language based (trivium.) There also is a very natural connection between music, rhetoric, and poetry. I've read lots of poetry to my students in the upper school choir as it provides a great way to zap the brain into thinking creatively. Additionally, I'm always working on creating a sound that expresses the words on the page so that the choir really understands what they are singing about. It's not just words or notes that we sing, it is music and phrases that provide a true benefit and experience for it's listeners and participants.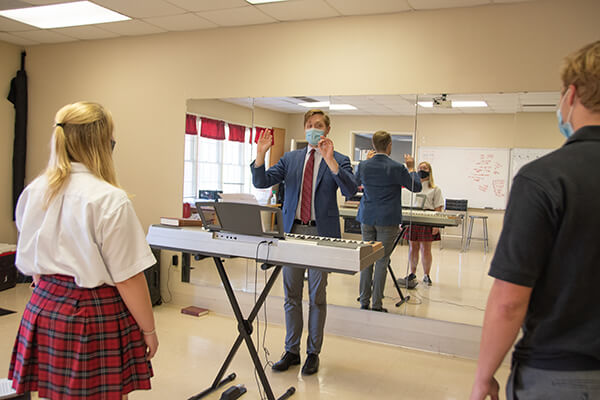 SL:&nbsp&nbsp How do you promote interest in fine and performing art classes with the student body?
JS:&nbsp&nbsp Everyday I eat lunch with both the middle school and high school students. It's such a fun adventure! I sit at random tables and I try my best to engage them in table wide discussions. These conversations, table to table and day to day are so different from each other. The diversity of conversation is amazing. I have learned a lot about living in Mobile, about each student's interests, their experiences at St. Luke's, their home life, their favorite subjects, their worries about the future etc. My main goal is to learn and to get to know the students. I'm also hopeful over time that these small relationships will turn into a great community of people who are interested in giving choir/singing a try.

SL:&nbsp&nbsp What is your teaching method/philosophy?
JS:&nbsp&nbsp I set the bar high and push students to try and achieve difficult and lofty goals.
SL:&nbsp&nbsp How do students know they belong in your program/class?
JS:&nbsp&nbsp Everyone can sing - so everyone should at least give it a try. I dislike any type of division between those who belong and those who don't. Also, it's imperative that all members of a choir support each other in the collective act of singing.
SL:&nbsp&nbsp Describe the trajectory, vision, future, etc of St. Luke's fine and performing arts program.
JS:&nbsp&nbsp Many schools and churches have embraced singing as a serious, intimate part of the education process. In the months ahead, I'm thrilled to help instruct many of you in this journey of learning how to sing well. We will work hard to produce a sound that restores and renews you and our world around us. We will also try our best to carve out a place in your hearts, minds, busy schedules, and spirits for the art of singing to be an intimate part of your education and your future. My hope is that in the years to come we can have many different ensembles of varying levels of experience and purpose so that we can make an impact on the St. Luke's campus and in the Mobile community.
---
Thanks Mr. Setzer&nbspfor helping us celebrate National Arts in Education Week!