Trainer David Bentley Talks Concussions.
I
n honor of National Concussion Day, we talked to our beloved athletic trainer, Mr. David Bentley regarding his knowledge of concussions. With Mr. Bentley being a respected name in the Biomedical Health Science Program and on the field at St. Luke's Epscopal School in Mobile, Alabama, he has seen all variations of the common blow to the head.
The amount of concussions that Mr. Bentley treats vary each year. Last year, he had about 4-5 head injuries during football season. Luckily, he hasn't had any football concussions this year, but he met with one volleyball player with impact to her head.
There are a few typical symptoms that many professionals see when diagnosing concussions. A few common symptoms that Mr. Bentley often sees headaches, blurry vision, nausea, ringing in the ears, unsteady balance, and sometimes vomiting. These symptoms vary from person to person depending on the severity of the concussion. For example, it usually takes a football player, on average, two weeks before they can resume participation. This time could be longer or shorter depending on the person.
For treatment, Mr. Bentley has a doctor that he sends the athletes to for further evaluation. The doctor sees the athlete in follow-up until he is satisfied with their symptoms. He then sends the athletes back to Mr. Bentley for a "return to play"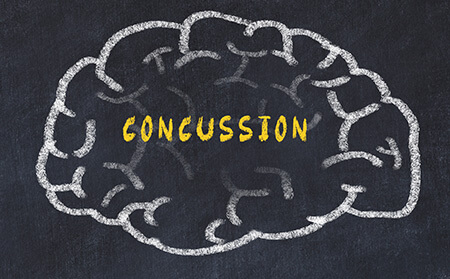 protocol. Depending on the sport, the protocol is different.
As far as the lifelong effects, a single blow to the head is not a lifelong impairment. There is no known exact number of concussions a person can receive to have lifelong issues down the line. Concussions often go undiagnosed or undetected. This all depends on the communication from the athlete. If the athletes do not communicate regarding their symptoms, then trainers cannot assume someone has hit their head unless they display obvious symptoms. However, Mr. Bentley does appreciate how our St. Luke's athletes look out for each other. If someone believes another athlete has injured their head, they will communicate directly with Mr. Bentley to evaluate.
Unfortunately, there are no "tips or tricks" within the recovery process for a concussion; it is all up to the body to heal at its own pace. Here at St. Luke's, we make accommodations for athletes who have been diagnosed with a blow to the head. The doctor can specifically help with accommodations that need to be made for specific athletes to continue to thrive academically and athletically.
The excitement of seeing "Trainer Dave" through the halls has always been a comforting thing for many of our students. Whether it be in the classroom or on the field, Mr. Bentley is always the perfect person to go talk to regarding injuries or the need for a good conversation. Every student looks up to him and enjoys his company. We are so blessed to have him look after our athletes on and off the field. Go Wildcats!